For Flanges, Casings, and Vessels
Soft Gaskets and Gasket Sheet Materials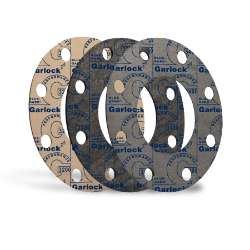 Draco's gasketing is offered in a wide range of materials, including virgin PTFE, glass-filled PTFE, restructured PTFE, expanded PTFE, compressed fiber gasketing, flexible graphite sheet, extreme temperature gasketing, commercial grade and high-performance rubber sheet products.
We stock a wide range of materials and thicknesses for any fluid sealing application. We can offer full sheets and rolls or fabricate any gasket to your specification. See our Services Page for our converting and production capabilities!
Stock rubber and fluoroelastomer materials include: Neoprene, Nitrile, EPDM, Hypalon, Viton®(FKM), Red SBR, White food grade elastomers and Silicone. We focus on fluid sealing but can fabricate rubber products for your mechanical application as well, including but not limited to shock absorption, dampening and washers.
We are proud to represent the following quality manufactures to meet any application, or budget.
Don't know what you need or have a tough sealing application?
We can help. Click the button below and fill out the application form.
Get a Quote
Request a quote today for just about anything fluid sealing related. Please provide as much information as possible to help us identify exactly what you're looking for. We'll respond to you shortly!