For Pumps, Ducting, and Exhaust Systems
Expansion Joints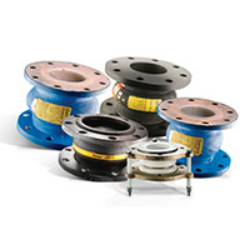 Draco carries a full line of quality expansion joints. Contact us for any type of elastomeric joint for piping and ducting; and for more difficult applications, metal bellows and braided metal hose. Do you have extreme temperatures, high pressures, harsh chemicals and mission critical processes to contend with? We have an expansion joint for you.
Our Expansion Joints are Used To:
Absorb movement
Improve thermal stability
Relieve system strain due to thermal change, load stress, pumping surges, wear of settling
Reduce mechanical noise
Compensate for misalignment
Eliminate electrolysis between dissimilar metals
Get a Quote
Request a quote today for just about anything fluid sealing related. Please provide as much information as possible to help us identify exactly what you're looking for. We'll respond to you shortly!